SWITCH
I needed to do a new publicity pic so I contacted my old pal Trina Koster of Trina Koster Photography, check her out at!
Here's the final product: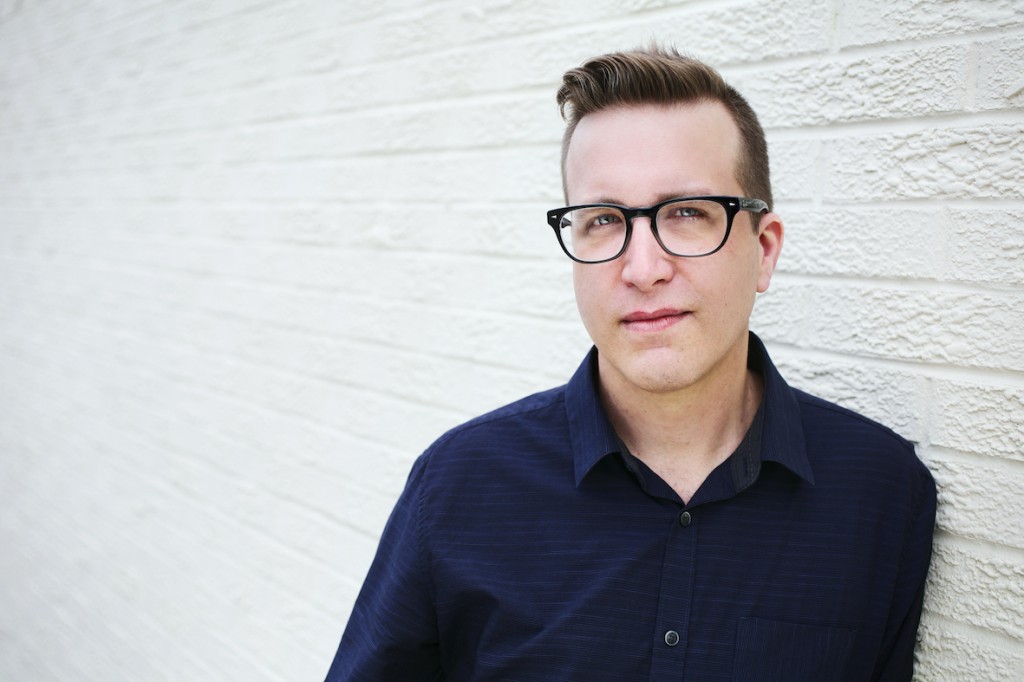 Trina and I met in university and passed many an hour in the school's darkrooms, growing progressively more hysterical as we struggled to complete our photography assignments. I felt very self-conscious about having my picture taken, but it was fun, and things got silly as you can see in this outtake: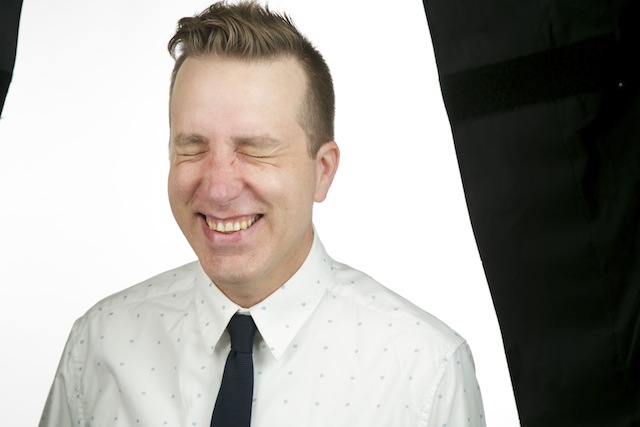 At one point, Trina said something like, "Sit on the ground like you did when you were a teenager" and so I did. The she took a picture of my shoes. Why do teens sit on the ground? Because they can.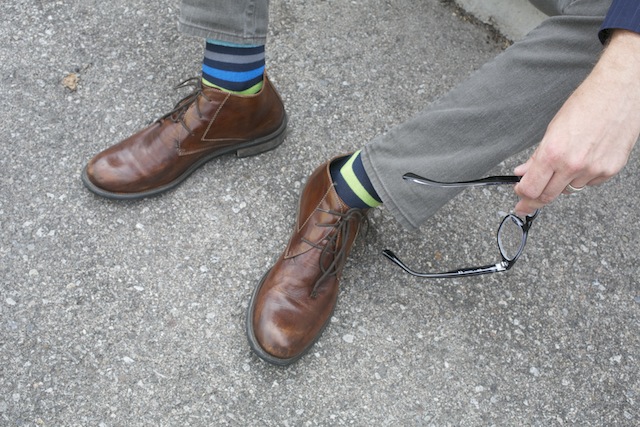 M IN THE ABSTRACT
When I wrote M I hadn't really planned for any promotional pictures so when I was asked to provide an image ASAP to my publisher I put on a tie, went outside and took a picture of myself. I don't know what I was trying to convey here. Vaguely distracted solemnity? You can see my beehive way off in the distance.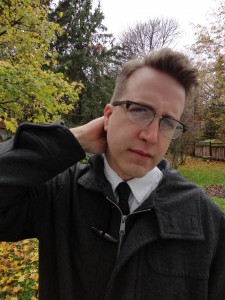 Some time ago I found what may be the best author photo ever on the back of "The Devil Rides Out" by Dennis Wheatley: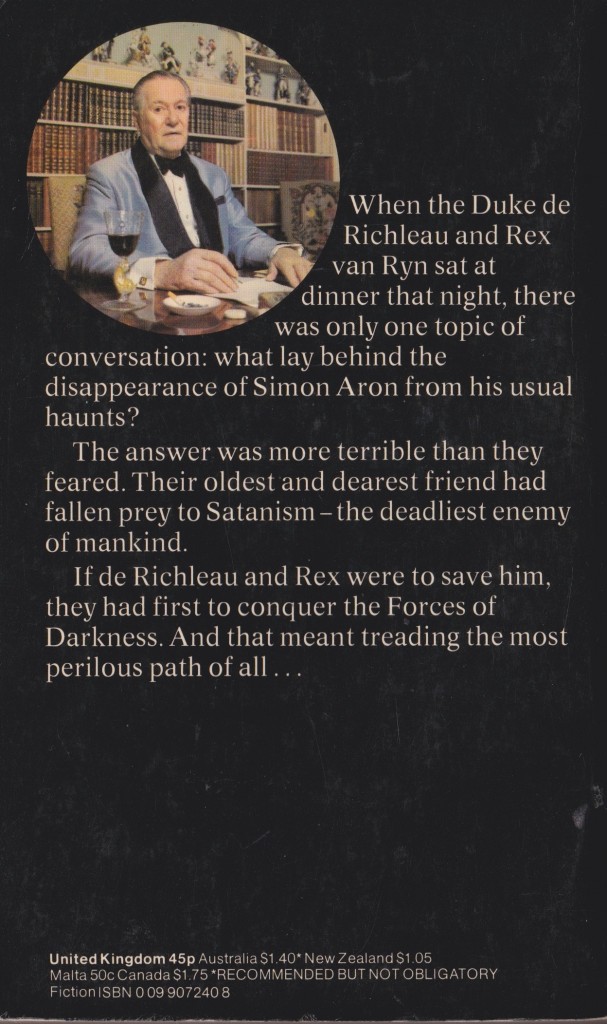 Of course I had to recreate it. I don't have rows and rows of antique books like he does but the items on the mantel are some of the older volumes I've managed to collect, including a couple of pieces from the 1700's. I also threw on the Wheatley book I used for inspiration. Similarly, buying a bunch of vintage Royal Doulton figurines was beyond what I was willing to invest in both time and money so I went to a second hand shop and bought a bunch of knockoffs. I'm particularly fond of the beady-eyed one that looks like it was carved from bone and says "I MISS YOUR KISS." The ceramic floral bowl is where I keep my guitar picks. And that's not even a desk, it's my coffee table raised up on two chairs. Looks can be deceiving, children.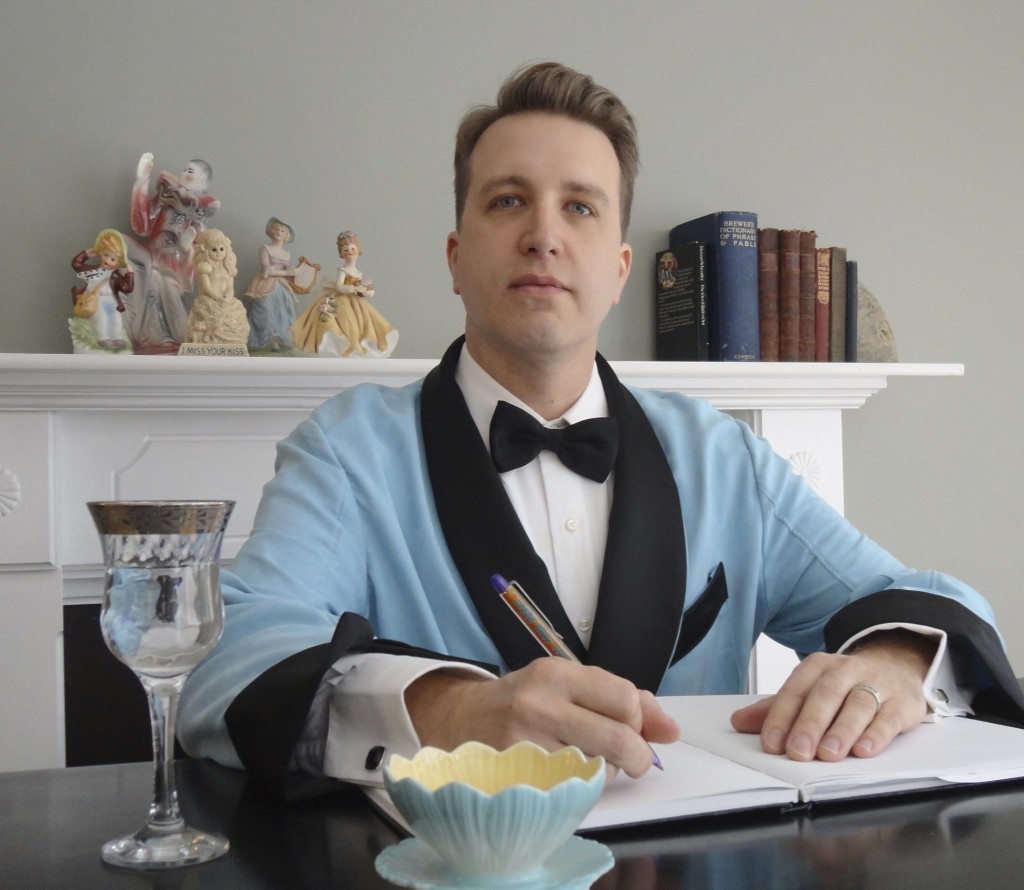 My jacket is bespoke and was quite a time in the acquiring. After a long and fruitless search for a jacket similar to the one worn in the original photo, I bought a pattern online, picked up the fabric at a store in Toronto, and then commissioned a crafty friend to construct the thing. I look forward to the many (?) opportunities I'll have to wear it.