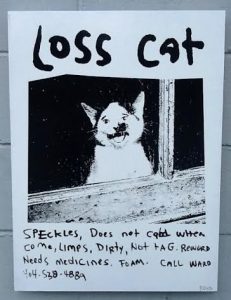 Unresponsive, injured (I just broke a tooth in half), in need of medication, lost. I sure feel like that cat right now.
2016 can basically go to hell. This hideous year not only brought the death of my mother, it also took away a huge influence on me personally, David Bowie. (Probably tied only with Lou Reed, who died in 2013.) Bowie was a bisexual weirdo who did everything on his own terms, and looked great doing it. (Lou, too.) What's not to love? I made playlists derived from the music referenced in M in the Abstract and Switch, and of course David Bowie and Lou Reed are both mentioned. (Click the book titles for links) Another artist mentioned in M in the Abstract is Leonard Cohen, who just passed yesterday. I was never his biggest fan (this might be sacrilegious, but I always though that his later work sounded like someone had pressed the 'demo' button on a keyboard) but who can deny the power of his music, poetry, and presence? My spouse is a longtime fan. The loss of Cohen, following as it did so closely after the truly sad outcome of the US presidential election, has made for some depressing times around here. Leonard is mentioned in M in the Abstract as one of the 60's folk artists from Mary's LP collection. Just follow the same link above.
Other personally-important figures lost to the black hole of 2016 include the inimitable songster Prince, master thespian Alan Rickman, Alan Vega of the minimalist punk rock band Suicide, and comedic genius Gene Wilder. Blargh. I can't take it. I keep thinking of that Nietzchean line from True Detective, "Death created time to grow the things that it would kill."
What should we do in the face of all this loss? Love each other and make art, as always.