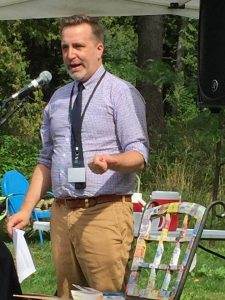 Eden Mills was great; I got to meet some fabulous authors and hear them read their own works, which is always a blast. The YA area was very well-attended and the Bookshelf sold out of my books- I even gave away my reading copy!
I'm working on a short story collection. One of the short stories is a loving satire of / homage to dystopian romances and the enthusiastic fanfic they inspire, a case where imitation truly is the most sincere form of flattery. I wasn't sure how it would go over but my worries (and ego) were put to rest by the fantastic response the story received from the crowd. It's called Heroth Nefer Die. It helps to stick your tongue out while you say it.
Thanks to Eden Mills and my presenter (far right in the group photo below).
All photos by Helen Kubiw.